Holiday Guide 2016 – Events & Gift Ideas for the Holidays
Welcome to the 2016 Holiday Guide for Scarborough, brought to you by the Scarborough Community Chamber of Commerce, SEDCO and Scarborough Buy Local.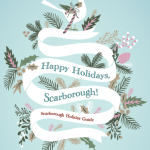 We've got a list of events in Scarborough, a selection of regional events and a mini guide to gifts with a Scarborough orientation.
If you would like to include your holiday events, specials, discounts or gift ideas in the Scarborough guide, please send the text information and photos to 
research@sedcomaine.com
. There is no cost to participate and the guide is available to view on the SEDCO, Scarborough Community Chamber of Commerce and Buy Local websites.